Yalta ***
---
Perched on a hill above the town of Yalta, the Hotel Yalta is a large 4-star resort hotel overlooking the Black Sea with direct access to its own private beach.

Location: right on the beach, among the Crimean pines, cypresses and plane-trees in a highly picturesque corner of the Crimean coast-the ancient Massandra park. The 16-storey edifice is well integrated with the landscape. 1,5 km from the center of the city. Airport (in Simferopol)-100 km, railway station-88 km (Simferopol), seaport-1,5 km.

The hotel has 1206 rooms/2518 beds: 9 single, 1115 double, 28 triple, 54 de luxe rooms. Each room with shower, bath, WC, telephone, TV, balcony. At your service: swimming pool, with heated sea water, a sauna bath and a massage room, 3 restaurants, two cafes with banquet halls, and two bars serving ice-cream, cocktails, beer and coffee, pancake-shop. The hire service provides you with beach-chairs, inflatable matresses, flippers and diving masks, a boat, a catamaran or sea-bike, windsurfing, tennis courts and courts for table-tennis and badminton.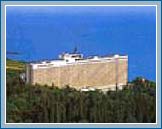 50 Drazhynsky St.
Yalta
Tel 380 (654) 35 02 16, 35 02 60
Fax 380 (654) 35 20 26