Oreanda ****
---
Enjoy the world-famous health resort of Yalta in the Hotel Oreanda which is located in the city center on the sea front. The sea is only a few dozen metres from the hotel which offers a panorama of the sea port and the summits of the Crimean Yaila. Built in the style of late Russian classicism, its snow-white facade lends it an unique elegance complemented by an interior design based on marble, finewood and metal.

Location: in the center of the city. The Simferopol Airport is 90 km away, and the rail station is 80 km.

The Hotel Oreanda offers 121 rooms which includes 5 deluxe suites, one fitted with a sauna and an exit leading to the rosary laid out on the hotel roof. The rooms are elegantly appointed with modern, comfortable furniture, TV, radio, and telephone. Additional amenities include a currency exchange, a post office, an international payphone, a beauty salon and barber, a solarium, a boutique shop, and souvenir kiosks. For those into water sports, swimming is possible in the indoor pool with heated sea water, or on the private beach equipped with a first-aid station, massage, shower rooms, rental depot and a bar.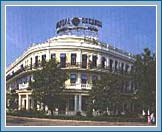 35/2 Naberezhna St.
Yalta
Tel 380 (654) 328-336
Fax 380 (654) 328-166