Kaskad ***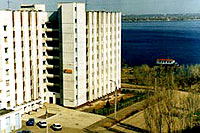 from $15 + VAT

The Kaskad Hotel is conveniently located on the Volga river waterfront.
Commissioned in 1991, the hotel offers the guests of Volgograd 54 one-room and two-room apartments with all modern amenities.
Each apartment boasts a colour TV, a refrigerator and, of course, a breathtaking view of the Volga. Some of the apartments are also equipped with telephones. In addition, the hotel features long-distance phones in the lobby, a dining room, a cafeteria, a massage parlour, a storage room, and a hairdresser's shop.
Water, sun, cozy apartments and affordable prices at the cafeteria all come together at our hotel to provide you with a unique opportunity to relax and have a good rest, to get a great suntan and, if necessary, to combine pleasure with business.
Address:
Gramshi st. 55
Hotels in Ukraine

Room 504 Hotel Rus
4 Hospitalnaya str.,
Kiev 01024 Ukraine
(602) 553-8178

Contact Us



THIS PROGRAM IS THE SOLE PROPERTY OF HOTELS IN UKRAINE AND MAY NOT BE COPIED IN ANY WAY OR FORM WITHOUT EXPRESS PERMISSION FROM HOTELS IN UKRAINE.

© COPYRIGHT 1996-2019 - ALL RIGHTS RESERVED.